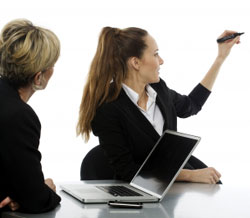 Team workshops are a great way to learn new things, but as an individual learner, you also have specific professional learning goals that are unique to you.
Engaging in professional mentoring and coaching allows you the opportunity to have individualized attention that focuses on your specific learning requirements. Not only do you get to learn at your own pace, but you also choose to learn exactly what you are interested in learning. You decide your own professional development path and you identify your own learning goals.
Underpinning the mentoring process is a trusting, respectful and confidential professional relationship.
I help beginning teachers and new educational leaders to gain insights through current theories and methods, equipping you with a range of practical tools and strategies that can be applied in your own particular context.
Professional development supports your potential for effective leadership within your own community of learners. Find out more…
Mentoring and Coaching (Distance Option)
I offer face-to-face mentoring and coaching sessions in the greater Auckland area, but if you are a teacher who would love to engage in professional mentoring and coaching, and
you live outside the Auckland area, or
are geographically isolated, or
circumstances prevent you from being able to travel (e.g. work in the day and care for young children when not at work) you can opt for telephone and email mentoring and coaching sessions instead.