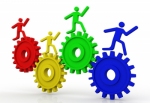 According to the latest findings from the Paris-based Organisation for Economic Co-operation and development (OECD), New Zealand performs exceptionally well in overall well-being, as shown by the fact that it ranks among the top countries in a large number of topics in the Better Life Index.
A well-educated and well-trained population is essential for a country's social and economic well-being. Having a good education is an important requisite to finding a job and New Zealand is a top-performing country in terms of the quality of its educational system. According to the OECD's Programme for International Student Assessment (PISA), New Zealand is a top-performing OECD country in reading literacy, with the average student scoring 521 out of 600. This score is higher than the OECD average of 493, making New Zealand the 4th strongest OECD country in reading skills. Additionally, students performed well in mathematics and science, with more than 17% reaching the two highest levels of proficiency.
Education plays a key role in providing individuals with the knowledge, skills and competencies needed to participate effectively in society and in the economy. In New Zealand, 72% of adults aged 25 to 64 have earned the equivalent of a high-school diploma, same as the OECD average.
Most concretely, having a good education greatly improves the likelihood of finding a job and earning enough money. Money, while it cannot buy happiness, is an important means to achieving higher living standards. Lifetime earnings also increase with each level of education. In New Zealand, the average household earned 18 996 USD in 2008, less than the OECD average – although nearly 72% of people aged 15 to 64 in New Zealand have a paid job. Across OECD countries, men with university-level degrees are 16% more likely to find jobs, and women are 30% more likely.
Finding a suitable balance between work and life is a challenge for all workers, especially working parents. Some couples would like to have (more) children, but do not see how they could afford to stop working. Other parents are happy with the number of children in their family, but would like to work more. This is a challenge to governments because if parents cannot achieve their desired work/life balance, not only is their welfare lowered but so is development in the country. People in New Zealand work 1729 hours a year, close to the OECD average.
Female employment rates in New Zealand, suggest overall compatibility between work and family life. 75% of mothers are employed after their children begin school; this figure is higher than the OECD average of 66% and suggests that mothers are able to successfully balance family and career.
Although the overall government spending per child fell between 2003 and 2007, there has been a welcome increase in early-childhood spending and childcare provision. The increase in spending on children aged 0-5 years as a share of spending on all children was one of the largest in the OECD.
What are your thoughts on the status of education, employment and work-life balance in New Zealand?